Exterior Only Details
Top Rated Local® Auto Detailing Services
Welcome to Ultimate Mobile Detailing! Whether you have an RV, vehicle, or another mode of transportation, our detailing services are the quality you've been looking for! We have more than 20 years of experience in the industry, and as experts in detailing services, we are proud to have formed many lasting relationships with our customers through the years. We understand you want to work with a team with professional experience, and you can rely on our team of experts to take the time and care to ensure the job gets done right the first time. Contact us today with any questions or concerns you have. Our customer service team is readily available to assist you.
If you are considering interior detailing for your vehicle, you might be wondering how to go about the process and what kind of interior detailing might be best suited for your needs. At Ultimate Mobile Detailing, we are happy to speak with you one-on-one to ensure you receive the service you need and deserve, and we work with you from start to finish to ensure your expectations are exceeded. Read below to discover more about our interior detailing services.
WASH ONLY
Hand wash
Bug Removal
Wheel wells & rims cleaned
Clean tail pipes
Clean gas cap area
Tires dressed
Door jambs cleaned
For Sedans $75
Larger Vehicles $85
*Depending on condition
WASH N WAX
Exterior hand wash
Bug Removal
Clean wheel wells
Clean rims
Dress tires
Door jambs cleaned
Clean gas cap area
Clean tail pipes
Clay Bar Treatment
Wax
From $150-$250*
*Depending on condition
Completion: 1 1/2 hours est.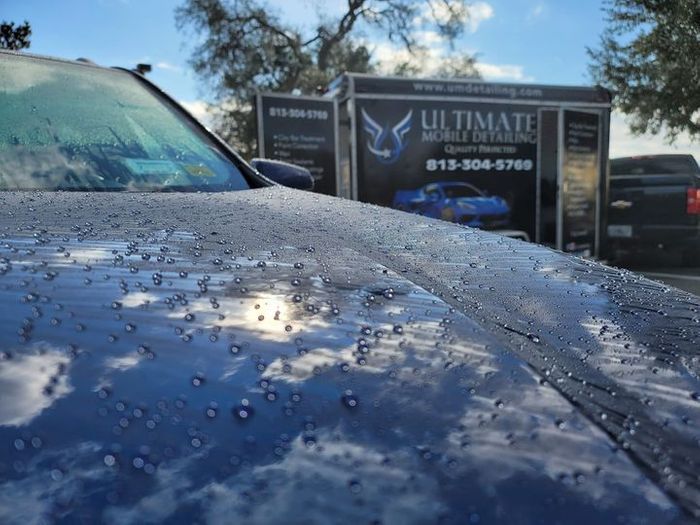 UPGRADE YOUR EXTERIOR PROTECTION
Are you looking for additional exterior protection? We offer ceramic coating and paint protection film at a fair price! Check out our ceramic coating and paint protection film packages and let us know if you have any questions or want more information!
Is EXTERIOR Detailing Worth It?
You might be wondering, is exterior detailing worth it?
Yes it is.
Exterior auto detailing is worth it because it enhances the appearance of your vehicle, protects its paint from damage, increases its resale value, and we save you time and effort by coming to your location.
Why Choose Us?
We always focus on what's best for the client, and we treat each customer we work with like family! We will always be transparent about what you can expect from your service with us, and we communicate with our customers from start to finish. Contact us today, and we can share more about our passion for the industry and how we can get your vehicle looking its best.
At Ultimate Mobile Detailing, we want our customers to have the luxury of choosing the right interior detailing service that suits them, and our customization options, alongside our add-ons, are everything you would want in a quality interior detailing service. Don't wait any longer to book a service with us! We want your vehicle to look great and last for the long run, and we are committed to excellence. Reach out to us today to learn why we are the preferred detailing service provider!